Microblading/Eyebrow Embroidery/3D Brows
A semi-permanent eyebrow tattoo, where pigment is implanted under your skin with a manual handheld tool instead of a machine. Hair-like strokes are drawn with the tool to mimic natural hairs in your brows, using pigment color that lasts up to a year. It's waterproof, smudge proof, and looks very natural. It is a two-step process that requires a follow up visit 4-6 weeks after your initial appointment.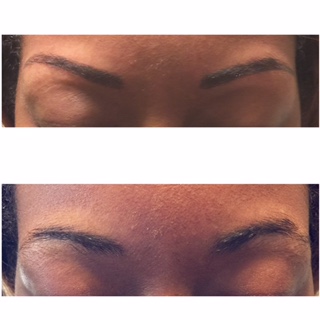 Contraindications:
Pregnancy/lactation
Fever, cold, flu, or sinus/respiratory infection
Hemophilia; blood thinners; thyroid medication
Diabetes
Tendency to scarring; keloidal skin
Psoriasis; eczema; rashes or blisters in the area to be treated
Severe allergies
Tinea; glaucoma
Hepatitis; HIV; active skin cancer in area to be treated; auto immune diseases; Accutane or steroid use; uncontrolled high blood pressure or mitral valve disorder
PRE-PROCEDURE
Do NOT take aspirin, Niacin, Vitamin E, Ibuprofen, or fish oil supplements, 48-72 hours prior to procedure (unless medically necessary). Tylenol is ok to take.
Do NOT work out the day of the procedure
You MUST be off Retin-A or Retinols for 7 days prior to the procedure, and avoid using on or around the brow area for 30 days after.
If you use BOTOX, it should be performed either 2 weeks prior to appointment, or 2 weeks after the procedure
Fillers should be done 6 weeks before the procedure or 6 weeks after the procedure
You MUST be off Accutane for 1 year, NO exceptions!
Avoid alcohol or caffeine 48 hours prior to the procedure
If it is that time of the month, you may be hyper-sensitive during the procedure
If you have oily skin, the pigment may fade sooner and require more frequent touch ups.
POST-PROCEDURE / The following may occur after your procedure:
Discomfort/Swelling: discomfort is usually mild and can be controlled with over the counter ibuprofen.
Bruising: although rare, it does occur; it is mild and will subside within a few days.
Pigment Intensity: immediately following the procedure, the pigment will appear dark/vibrant; the color will fade within 7 to 10 days and settle into the final color.
Pigment Irregularity: the pigment may become inconsistent as the area heals, with some areas lighter/darker than others; this is normal and cannot be predicted. The touch-up procedure will correct this.
Infection: rare, but can occur if the treated area is not kept clean and protected with recommended ointment/oil.
SCABBING – DO NOT pull off, color will lift and area will look blotchy; allow it to fall off on its own
Flaking
Tenderness
Dryness and Itching – DO NOT pick the treated area, may cause scarring and loss of hair strokes.
Redness
DAY 1-3:
DO NOT touch your brows; a barrier cream will be applied after the procedure that will last for 3 days.
DO NOT sleep on, scrub, rub, or wet your brows
NO Salt Water; NO Direct Sunlight; NO Heat
DAY 4-7:
Apply grape seed oil 1-3 times per day after the barrier cream wears off (wash hands before and after applying, and use a clean cotton swab each time to avoid infection). This keeps the area hydrated and promotes healing.
AVOID FOR 1 WEEK:
Soaps, facial cleansers, and any creams on pigmented area
Washing the pigmented area with soap
Chlorine pools
Retin-A, or any active ingredients on pigmented area (it pulls the color out)
Makeup on pigmented area, including non-allergenic
Hot, steamy long showers; jacuzzi and sauna
Sun on pigmented area
AFTER THE FIRST WEEK:
Use a very mild, fragrance free cleanser (such as Cetaphil) to clean the pigmented area. GENTLY PAT THE CLEANSER ON BROWS, USING CLEAN HANDS; GENTLY rinse and pat dry - NO SCRUBBING OR RUBBING!! If you're cleaning your brows in the shower, use warm water and not hot*. DO NOT allow the water to beat on your brows, let the water hit above the area and run down for a short time or cup your fingers over the area and allow water to seep through your fingers onto the area.
*Hot water will not be comfortable on the pigmented area; heat and/or steam will open your pores and may cause the color to leach out, which will cause a blotchy or uneven appearance. Open pores make it easier for germs to get into your skin. Cold water or a dripping cold compress on the pigmented area for a minute or so will close the pores and seal the area.
DO NOT USE NEOSPORIN
DO NOT USE ANYTHING BUT GRAPESEED OIL ON YOUR EYEBROWS!!!
The color will lighten over time, an annual touch up is recommended to keep brows looking their best. Fading largely depends on your skin type, lifestyle, sun exposure, pigment color used, broken capillaries, iron deficiency, and if chemical peels are done after your procedure.
If you are getting a chemical peel, MRI, or other medical procedure, please inform the technician that you have had an iron-oxide cosmetic tattoo. Special care must be taken to avoid the pigmented area (a pulling or burning sensation may occur). If you are planning to have a laser treatment, tell the laser specialist to avoid the area; laser may cause the pigment to turn black.
The consultation and procedure take about 2 - 2.5 hours.
Special Price $275 (Reg. $475)
A $50 NON-REFUNDABLE deposit is required, it will be applied to the cost of your service.